| HOME |
Overview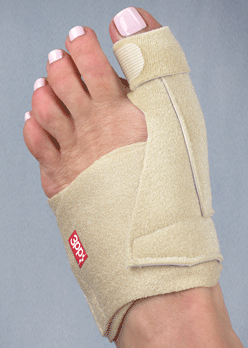 More than one-third of women in America have bunions, a common deformity often blamed on wearing tight, narrow shoes and high heels. Bunions may occur in families, but many are from wearing tight shoes, and nine out of 10 bunions happen to women. Too-tight shoes can also cause other disabling foot problems such as corns, calluses and hammer toes.
Causes
Bunions have a number of causes, primarily genetics and bad choices in footwear. We inherit traits like flat feet, abnormal bone structure, and loose ligaments and tendons from our parents. When our feet are weakened by these traits and we stuff them into high heels or shoes which don?t support our feet correctly, the repeated stress on the front of the foot may contribute to the formation of a bunion. Other contributing factors are jobs that demand a lot of time standing, obesity, and sudden hormonal changes and weight gain, as in pregnancy. Unfortunately, bunions can lead to many other foot conditions as well. The joint behind the big toe carries much of your body weight and when the bunion makes it sore, you shift your weight onto other areas of the foot. That?s why we frequently see crossover toes, overlapping toes, hammer toes, corns, calluses, and ingrown toenails accompanying bunions. As pain in your foot increases, you?ll also reduce your activity, becoming more sedentary, which has its own quality-of-life issues.
Symptoms
Look for an angular, bony bump on the side of the foot at the base of the big toe. Sometimes hardened skin or a callus covers this bump. There's often swelling, redness, unusual tenderness, or pain at the base of the big toe and in the ball of the foot. Eventually, the area becomes shiny and warm to the touch. Seek medical advice if you have persistent pain when walking normally in otherwise comfortable, flat-soled shoes, you may be developing a bunion, bursitis, or a bone spur in your foot.
Diagnosis
Looking at the problem area on the foot is the best way to discover a bunion. If it has the shape characteristic of a bunion, this is the first hint of a problem. The doctor may also look at the shape of your leg, ankle, and foot while you are standing, and check the range of motion of your toe and joints by asking you to move your toes in different directions A closer examination with weight-bearing X-rays helps your doctor examine the actual bone structure at the joint and see how severe the problem is. A doctor may ask about the types of shoes you wear, sports or activities (e.g., ballet) you participate in, and whether or not you have had a recent injury. This information will help determine your treatment.
Non Surgical Treatment
If abnormal pronation is identified and corrected early, the formation of a bunion can be prevented. However, if the bunion has already developed and cannot be tolerated by the patient, surgery is necessary. Amputation of the big toe ceased to be a treatment for bunions many generations ago, but only in the past few years have surgical procedures been developed to incorporate the realignment of the bone with the correction of the abnormal motion that led to deformity.
Surgical Treatment
One of the more popular proximal metatarsal osteotomies that is performed is called the Myerson/Ludloff procedure. This operation is performed for more advanced deformity. Screws are inserted into the metatarsal to hold the bone cut secure and speed up bone healing. Walking is permitted in a surgical shoe following surgery. The shoe is worn approximately 5 weeks.
Tag : Bunions
| HOME |